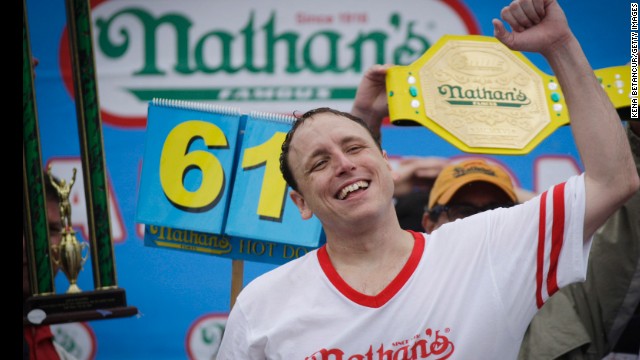 Joey "Jaws" Chestnut, reigning king of the world's most famous hot dog eating contest, may have had an extra boost of confidence Friday. With a hug and kiss, his girlfriend of three years accepted his marriage proposal.
On a rainy Independence Day at Brooklyn's Coney Island, the San Jose, California, resident once again clinched the title at Nathan's hot dog eating contest before hundreds of umbrella-toting spectators at the annual celebration of gluttony.
"It was just a dog fight the entire time," he told ESPN, which broadcast the popular event.
Chestnut sloppily devoured 61 hot dogs in 10 minutes — edging his biggest competitor, Matthew Stonie, who placed second after swallowing 56 dogs.