Good Morning Friends!!!
Dorian remains steady as of the 11 p.m. advisory as it pushes to the NNW at 6 mph. Tropical storm-force winds are possible along the coast lines up to North Carolina, which may cause some power outages. Hurricane-force wind gusts are also possible along the coast line, especially if Dorian takes a closer approach to the coast line.  The biggest threat will be flooding from rainfall and storm surge. The expanding wind field of Dorian will make it easier for storm surge to occur regardless of its proximity to the coast. There is still a small chance that Dorian could strengthen gradually as it moves over warmer waters away from the Bahamas. However, since Dorian has already broadened its wind field after weakening over the Bahamas, it will be harder to wrap its winds in tight again to restrengthen with any great measure. This is still a powerful storm that could have serious and dangerous impacts in the southeastern United States. There are more storms developing in the Atlantic
The threat of Hurricane Dorian's impact has passed inland counties, but there are still hundreds of homes and business in Clewiston that are still boarded up. Clewiston's Fire Marshall Travis Reese is urging homeowners to remove shutters because they create hurdles for crews and can put homeowners in danger.  "It's not just for aesthetics; it's for safety. Those shutters will actually hamper us from being able to get in there," Reese said.  In Clewiston, people have 72 hours to remove shutters after a storm event before they are in violation of a city ordinance.  "Just as you were diligent putting them up, be diligent to take them."
Lee County Sheriff's Office is investigating after a man was pummeled with a pipe in a Winn Dixie parking lot.  The attack happened August 30 just after 3 p.m. at the Winn Dixie at 1145 Homestead Road North. The victim told deputies he was unloading groceries into his car when another man came up and hit him repeatedly in the head with a red pipe. The suspect left the scene. The victim says they plan to press charges if deputies find the man.
——————————————————————————————————————————————
Bridesmaid Shows up at Wedding in a T-Rex Costume
As most brides-to-be would attest to, a wedding could be ruined by something as simple as a maid of honor showing up in a dress that doesn't match the outfits worn by the rest of the party. So imagine what a woman in Nebraska thought when her sister, who was serving as her maid of honor, arrived in a full T-Rex costume.
The wedding day nightmare occurred Monday at the nuptials of Deanna Adams, who, in all fairness, told her sister she could choose her own ensemble for the big day. "About a year ago, my big sister texted me asking if I would be her maid of honor," Christina Meador says. "She, knowing that I'm not a big fan of wearing formal dresses and that I probably wouldn't have a lot of money to buy something really nice, reassured me by letting me know that I could pick out any outfit that I choose."
And that's exactly what Meador did, purchasing a $50 dinosaur costume for the blessed event. "Well, she did say 'anything,' and if I'm spending more than $50, I want it to be a dinosaur costume, because they're fantastic and I've always wanted one," she says. Fortunately, her sister was good-natured about the non-traditional outfit, saying, "My sister is awesome!"
Sonic Is Selling Fried Oreos And Ice Cream In Case You Missed The Fair This Year
Sonic is giving you an extension to get your favorite summer treats. They are still selling fried oreos and ice cream. They have paired the two together just for you.
Now you don't have to wait to go to the county fair next year.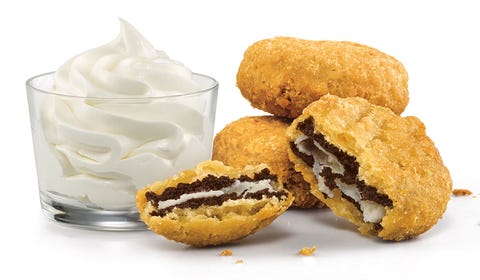 Courtesy: Sonic
Vegan Woman Sues Neighbors For Barbecuing In Their Backyard
Most people love the smell of barbecue from the grill. One vegan woman in Australia could do without it.  Cilla Carden has sued her neighbors for lighting up the barbecue in their own back yard.
Carden says, "It's deliberate. All I smell is fish. I can't enjoy my backyard." A lower court threw out the case in February. Carden took the case to the Supreme Court. They dismissed the allegations in July. Carden vows to continue her legal fight.